1 | Breeding of Calves

Calves of Tajima cattle lineage born at breeding farms (designated producers) in Hyogo Prefecture are first registered in a cattle lineage register. They are then assigned an ear tag marked with a 10-digit individual ID number. The role of a breeding farm is to decide which bloodline calves should be bred by, find new improved mating patterns, and raise healthy calves to the age of nine months.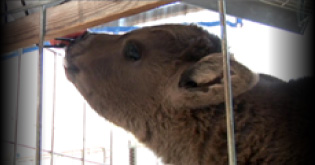 2 | Feeding of Cattle

Calves put on show in the calf livestock market are bought by feeding farms (designated producers) and are raised in a stress-free and healthy environment. Much love, labor and time is devoted in raising these calves. They are fed only the very best feed—rice straw, maize, barley and other cereals—and are given only fresh, clean water to drink. Their meat matures to an ideal quality and texture from the minimum age of 28 months upwards and at an average age of 32 months.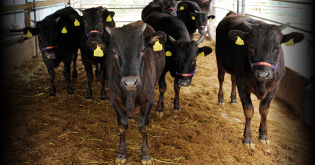 3 | Slaughtering and Shipment

Cattle is slaughtered at one of the slaughterhouses in Hyogo Prefecture. After this, In some numbers, it is a deed about an inspection, and cattle that make the grade are labeled and sold as "Tajima Beef" at the meat market.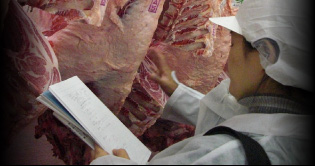 4 | Grading

Only a heifer or a steer of Tajima Beef, in particular, that satisfy the following carcass grading and other conditions are entitled to be called "Kobe Beef":
● BMS (marbling index) No.6 or higher
● Proportion of edible parts (yield score) A or B
● Gross carcass weight of 499.9 kg or less
● Fine meat texture and excellent firmness
The "Japanese chrysanthemum" mark is stamped only on beef that has been officially certified as Kobe Beef.
Bronze statuette cast in the shape of Tajima cattle.
This sign shows officially designated stores permitted to buy and sell Kobe Beef.